Moderator: minetymenace
Site Admin

Posts: 3315
Joined: Mon May 24, 2004 12:44 pm
Location: Malmö Scania Sweden
Has thanked: 67 times
Been thanked: 11 times
Flag:
Contact:
The new Triumph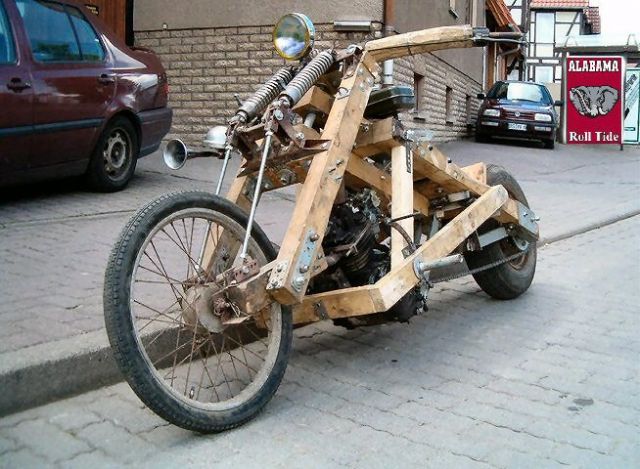 ---
---
---
Gerry1

Posts: 7594
Joined: Wed May 26, 2004 1:00 am
Location: On the edge of Salisbury Plain, England
Has thanked: 18 times
Been thanked: 75 times
Flag:
Contact:
Ah! A rare example of a Chippendale Chop!

(or Chips chop for short!)
---
---
>440

Posts: 440
Joined: Fri May 06, 2005 7:09 pm
Location: Gloucestershire UK
Has thanked: 0
Been thanked: 0
Flag:
Gets you thinking though. They can do strong shapes using "glue-lam" these days.
I'm off down the shed to work on chobbler's plywood flyer.

Does Roady do a splinterproof arse on his jeans?
---
---
>460

Posts: 476
Joined: Tue Jun 15, 2004 8:32 am
Location: Devon, England
Has thanked: 6 times
Been thanked: 8 times
Flag:
Well lets face it, not that many years ago wood was widely used as a structural material for all manner of land, sea and air travel machines

Who's to say that in these more enviromentally aware days that it won't make a comeback

Don't think I could put up with the splinters tho

not to mention loose dovetail joints and gallons of PVA adhesive

---