Moderator: minetymenace
1-10

Posts: 9
Joined: Thu May 10, 2007 9:08 pm
Location: Arkansas, USA
Does anyone have an address or telephone number of the man in Oregon or Washington state who rebores and puts a sleeve on the slide of an amal carb. He did one for me a couple of years ago and the sleeve is slipping on the slide. Apparently there is some adhesive which holds the sleeve in place and I need to to re-stick mine. Thanks
---
>10

Posts: 12
Joined: Wed Nov 15, 2006 6:07 am
Location: Calgary, Alberta
---
1-10

Posts: 9
Joined: Thu May 10, 2007 9:08 pm
Location: Arkansas, USA
Thanks Roger that is the business. Jimmie
---
Gerry1

Posts: 6906
Joined: Wed May 26, 2004 1:00 am
Location: Between Reading and Newbury, England
Flag:
Contact:
Funny what turns up, I was looking for some hooks to hang up my son's Lego Star Destroyer, when I found this: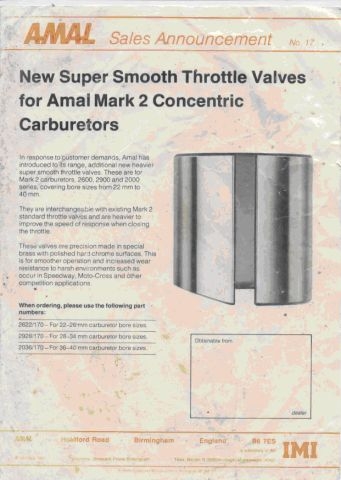 ---
Gerry1

Posts: 6906
Joined: Wed May 26, 2004 1:00 am
Location: Between Reading and Newbury, England
Flag:
Contact:
Seem to have over done it on the picture reduction front, must have got carried away with that thread about sizing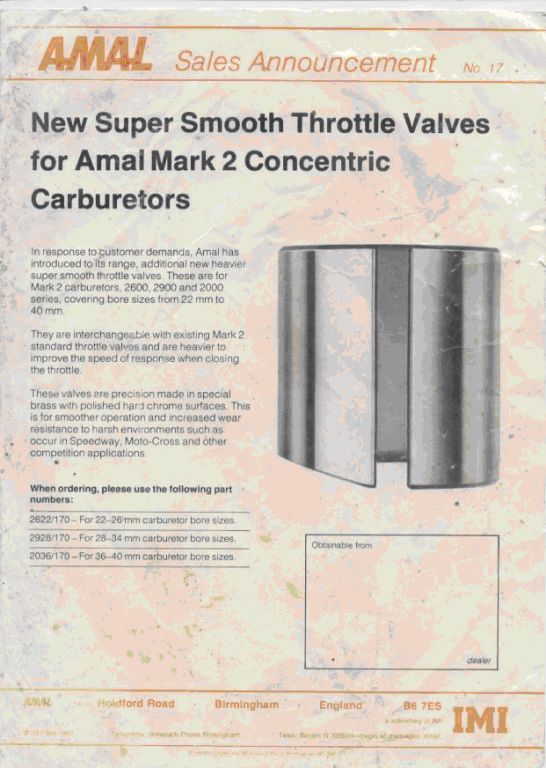 ---
---
Hi al,
Intresting topic, as I am nestling around with my carburetor to.
needel in lowest position , - mainjet 190 , and still black and sooty spark plug and high fuel consumption. used carb: Amal MK 2
the stori behind of it: I bought this part on the side of the road, I guess it was by RYANS in paramatta, and there was only a two stroke version avalible. so this helpfull man puts then as much as posible 4 strocke parts in,but I am not shure the right stuff is fitted in this housing.
at the moment I clean up a old concentric to fit and use agayn, but my question is : what is a good adress to send ore bring my Mark 2 for corectly seting up for my B50 ???
beat
---
FYI...
Check out this website for a complete range of amal carburettors (Mk.1, Mk2, 376, 276, gp3, and 10tt) and parts including a brass throttle slide to cure Jimmie's problem...
http://www.amalcarburettors.co.uk/index.htm
1971 B50SS
1971 B25SS
---
>1400

Posts: 1925
Joined: Sat Jun 30, 2007 2:50 pm
Location: Bristol, UK
Flag:
Hi Grouty

I used to live in the West Midlands in the early to mid-eighties and spent most of my Saturdays and all of my money in the tiny Autocycle shop which was in Bilston back then. Chris never failed to have what you needed, though he charged you accordingly. I bought a knackered B50 Rickman Metisse from him for £190 (I know, I know). He wouldn't haggle on the price and still charged me £2 delivery, even though he passed my house on his way home!

Turned out the engine was a Victor 441 with the engine number altered! Grrr. Still got it. Sold the complete Metisse rolling chassis for £60!! (sigh)

I eventually built up a good rapport with Chris (not many managed this), good enough to go to his house, meet the wife and kids, go out in his E-type Jag, etc. Showed me round his garage - Vincents, running BSA Fury, Goldies, vintage Triumphs, all sorts of stuff.

I was a civil engineer back then and got involved with drawing up some plans for a warehouse extension for him. Don't know if it ever got built. I got paid in credit against BSA spares from his shop. His existing warehouse was absolutely choc full of tons and tons of seemingly random Brit spares, though he seemed to find his way round.

I moved to Bristol in 85 and he moved to Netherton at about the same time. I've only ever been back to his shop a couple of time since.

Ah, memories.
66 BSA Victor Enduro, 72 BSA Lightning, 62 BSA B40 trials, 89 H*nda Bros 650, 96 Aprilia Moto 6.5, 2000 Aprilia Moto 6.5
---
1-10

Posts: 1
Joined: Thu May 27, 2010 7:20 am
Great information, Thanks for all to share this

---
Site Admin

Posts: 3267
Joined: Mon May 24, 2004 12:44 pm
Location: Malmö Scania Sweden
Flag:
Contact:
Jimmy White please update your email address in your profile. Your notifications get to my email.

Rickard
---
---
Who is online
Users browsing this forum: Bing [Bot] and 23 guests